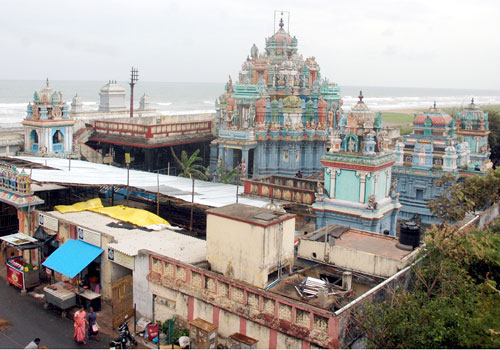 Moolavar
: Lord Maha vishnu with Mother Mahalaksmi
Amman / Thayar
: Adhi Lakshmi, Dhanya Lakshmi, Dhairya Lakshmi,
: Gaja Lakshmi, Santhana Lakshmi, Vijaya Lakshmi,
: Vidya Lakshmi, Dhanalakshmi
Thala Virutcham
: Vilwa
Theertham
: Samudra Pushkarini (Bay of Bengal)
Old year
: 500 years old
Place
: Beasant Nagar
District
: Chennai
State
: Tamil Nadu
Lord Mahavishnu with Mother Mahalaksmi: The name Ashtalakshmi is obtained because it is dedicated to Eight Manifestation of Goddess Mahalakshmi. The festival season is between the month of September and October.
The Navararthri Festival is celebrated in a grand manner, Devotes from all over the city flock to this temple to attend this festival and also to take a cool breeze in the beach with family members. This is located at Elliots Beach which is approximately 10 kms.
The Ashtalakshmi (8 forms of Lakshmi) temple is on the sea shore in the city of Chennai. Lodging all the eight different aspects of Shakthi, this temple is one of recent origin. Apart from the shrines of the goddess, there are shrines for Sri Hanuman, Sri Guruvayurappa, Sri Ganesh, and Sri MahaVishnu. When one climbs on top of the temple, a beautiful panoramic sight of the city along the shore is visible. The temple was opened by Jagathguru Kamakoti Saraswathi Swami in 1976. The annual temple fair is celebrated in March April. The temple is also a good example for modern sculptures.
Location: The temple is situated at a distance of 10 km from central Chennai city.
Near By Railway Station: Chennai
Near By Airport: Chennai
Accomodation:
Taj Coromandel: +91-44-5500 2827
Lee Royal Meridian: +91-44-2231 4343
Chola Sheriton: +91-44-2811 0101
The Park: +91-44-4214 4000
Connemara: +91-44-5500 0000
Rain Tree: +91-44-4225 2525
Ashoka: +91-44-2855 3413
Guru: +91-44-2855 4060
Kanchi: +91-44-2827 1100
Shrimani: +91-2860 4401
Abhirami: +91-44 2819 4547
Kings: +91-44-2819 1471.
Daily Poojas at Temple

Darshan Timings:

Morning - 06.30 AM to 12.00 PM

Evening - 04.00 PM to 08.30 PM

Friday, Saturday and Sunday: Morning Hours extended upto 12.30 PM
Details Of Pooja Timing

S.No

Pooja Details

Timings

1.

Suprabadham

6.30 AM

2.

Vishvaroopa Dharshan

7.00 AM

3.

Kaalasandhi

8.00 AM

4.

Uchikalam

12 PM

5.

Sayaratcha

6.00 PM

6.

Iravu Pooja

7.30 PM

7.

Arthajama Pooja

8.30 PM